If I get a dollar everytime I say how I loved colored eyeliners… I'd be stinking rich by now 🙂 I absolutely love collecting & using colored eyeliners. And when I get them at such a fabulous price with great staying power, I do happy dances all day long 😉 And these seriously are the best budget products ever!
Rimmel says : Long lasting shocking colour intensity with kohl for an instant colour impact. With an ultra-smooth & creamy formula that glides on easily and is waterproof, smudge-proof, sweat-proof, heat-proof, humidity-proof and scandal- proof. There're dermatologist & ophthalmologist tested and safe for sensitive eyes
Cost : $4 a pop  Available in almost all drugstores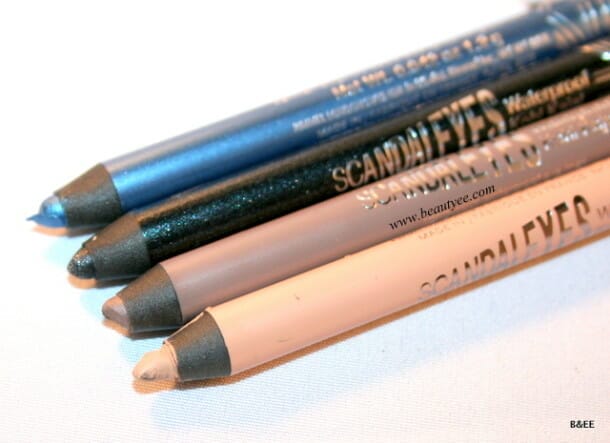 My experience with the ScandalEyes liner :  I rarely apply eye pencils on the upper lid because they all smudge on my hooded eyes within an hour or two. Even the extra expensive ones. But when these were new in the market I saw a ton of UK bloggers raving about these. I wanted a nude liner for my waterline and when I tried these on for the 1st time
I knew I found my HG.
Shades I have :
Sparkling black : This one is rare. It is black with tiny shimmering sparkles.

Taupe : It is a lovely creamy matte taupe shade which sometimes I use as a brow wax too.

Nude : It is a perfect creamy flesh toned shade which also looks better when used around the brows as a matte highlight

Turquoise : A lovely shimmery creamy blue… my fav 🙂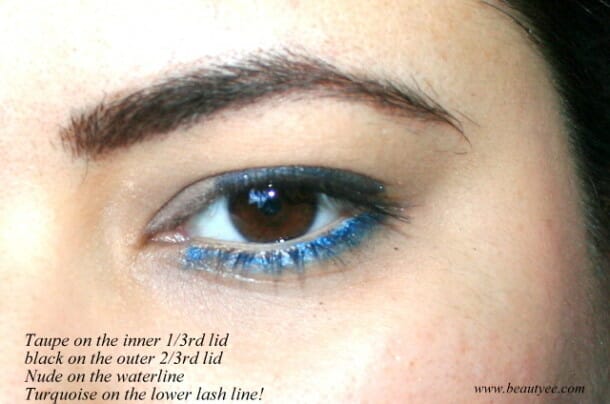 I somehow always reach for them these days in spite of having a pouch full of liners. I honestly trust them on my oily skin. Today I wore them outside in 82degree F and they stayed put for more than 4hrs.  I really like the fact that even when they fade, they just fade evenly and not smudge my entire eye. Also, they are really easy to fix in case of a boo-boo. you don't need to stretch your eye to apply these. they just glide around well and you can sharpen them to get sharp or blunt lines. The can be smudged immediately after applying for a soft look. Once they set, then they stay put. Can be easily removed with a eye makeup remover or baby oil. Absolutely no hassles with them. Also, the cap jams nicely so no worries about it coming off in your bag. Also, I didn't feel any irritation in my eyes. but I avoid the sparkly one in the waterline.
The only CON I'd say  is that they are extra creamy so the tip breaks easily if you apply a lot of pressure. Also, the sharpening wastes more than necessary.   but for this price, I'm willing to forgive that.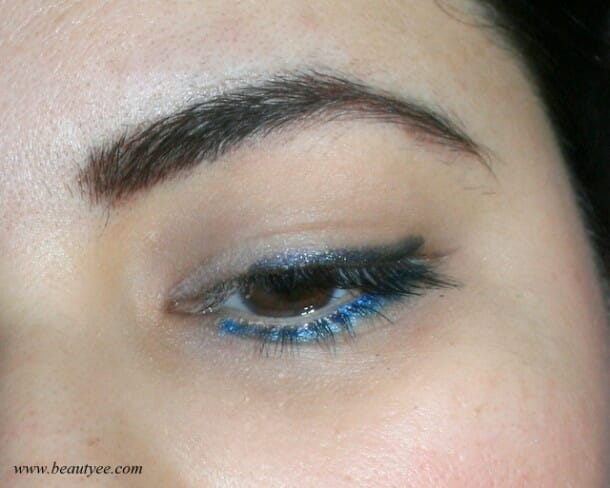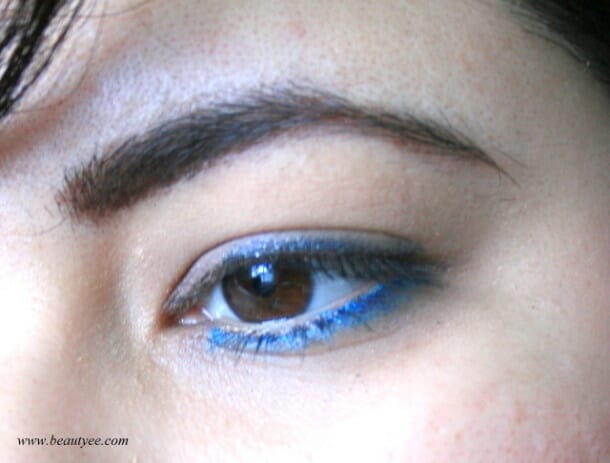 Verdict : GET THEM!! they are my HG  at the moment and I will repurchase them again and again! Love them so much
Bee's Tip : In case of sharpening creamy pencils I keep them in the refrigerator for an hour before sharpening to make them a bit stiff & sharpen without losing much product.
[P.S : Product kindly supplied by the PR. Opinions strictly personal. kindly see my disclaimer for   doubts ]