Gals I'm very sad. A few days ago my favorite  top got entangled in my dryer. I wasn't able to remove it so asked hubby to  help.. He pulled it out with his might and the inevitable happened….. It ripped off *insert boo-hoos here*  It was one of my favs- top list ones and I had great memories with it!!
See what I mean???  I loved it!!  I  also kept the 2 min maun!! actually it was more like a sometime maun :((    Your condolences in the form of chocolates or other goodies will be appreciated (JK!!!)
ANywho- to lighten the mood let me show you something :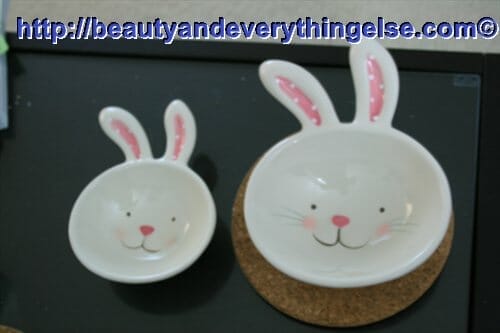 These bowls were gifted by my hubby's friend who visited us from California!!  they are in a set of 3. while clicking this pic I was having cereals in the biggest one 😀
sheer cuteness right????
Hope you are having a great weekend!!! Hubby has promised to take me shopping so I'm kinda going to forgive him!!! and the lower side of the top is ripped so thinking  if I could alter it a bit or give it to the Salvation army….   any suggestions????
Enjoy!!!
Much love!!