Hey my beauties, how's the weekend going???  who saw new movies? and who went camping???
As you can see I'm the latest (or the very late) blogger to join the sigma bandwagon!!!  Like many of you I would also like to get my collection of sigma brushes 😀 and they being very kind to us bloggers have arranged for one of you to get a lovely travel size Sigma E25 Travel Blending Brush!!!  yuppyyyyyyyyyyy!!!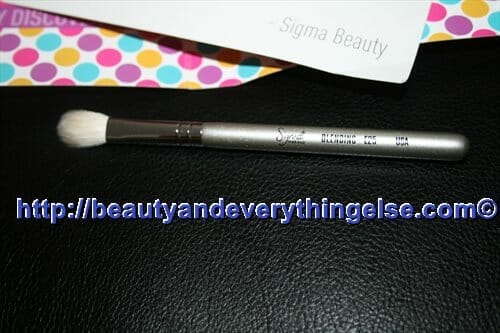 Even though being a travel size its quite a good size for applying shadow on your crease or blending out the sharp edges.. I used this a couple of times and found it quite soft and  does its job really well..   And now I rightly believe in the saying "Good tools are necessary for  a good job!!!"
I would describe the brush as : This one is a mid-size (not as long as MAC or the regular Sigma brushes) gray handle with a silver part that joins the brush with the handle (donno what it is called.) and has soft natural bristle hair which are stiff but not hard and a square frame tapered top (round taper suitable for shape of eye contour and creates versatility in placement and blending)
Since I don't have to explain sigma products much – let me get to the giveaway part. *applause*
Mandatory RULES for the giveaway:
1) The Giveaway is International.
2)  Should follow me with Google friend connect [1 point]
3) Should like my page on network blogs (you can see it on the lower right side on this page) [1 point]
4) give your email address so I can mail you if you win.
Optional rules:
1) Follow me on twitter and tweet about the giveaway (@bNiiontweet)  [2 points]
2) Like my facebook page (you'll find the widget on the right hand side of this page as you scroll) [1 point]
The Giveaway ends on 30th August 2011.
Well, thats it..  and please dont leave your details in the comments – in my last giveaway certain people had privacy issues so I'm giving you a cute form to enter your details!!!
hope you like it 😉
Loading…