Hey my beauties.. how was Christmas.. Did you have fun? What gifts did you give to your loved ones??Since party season is up, Oily skinned girls like me have to take extra care while applying make-up.  We need to apply more to make it appear and not so much as to melt off our face when we dance our ass off!
I really like Innovation… LOL… innovative people I mean.  They sensed our predicament and gave us setting sprays and primers…
The site says: The Original Makeup Finishing Spray greatly extends makeup wear, maintains color and prevents makeup from slipping, melting and creasing. Recommended for normal to combination skin types.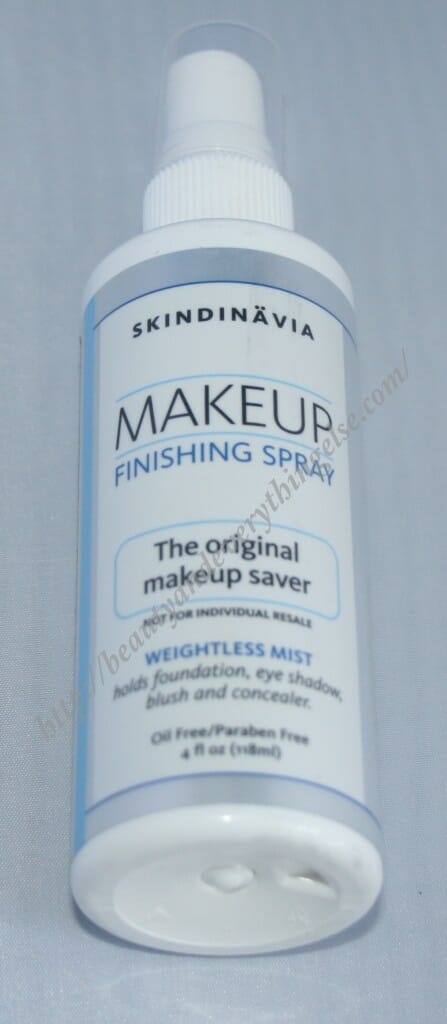 Skindinavia's Makeup Finishing Spray was first used on movie sets to hold makeup under hot lights minimizing the need for touchups and control excess shine. It is still used in Hollywood and on Broadway stages today.
NBC's Today Show described it as "kind of genius"
Features and benefits:
Fewer touch ups throughout the day.
• Stops makeup meltdown in summer and drying out in winter.
• Holds eye shadow, foundation, blush, and concealer perfectly.
• Leaves a translucent, smooth finish.
• Hypoallergenic, dermatologist tested, and oil free.
There are actually a total of six different sprays to choose from including the Bridal Makeup Finish, Cool Flash Makeup Finish, and Dance! Makeup Finish.
My experience with Skindinavia makeup finishing spray Original:
This is the original makeup setting spray and is pretty universal for all skin types.  It sets makeup and holds it up to conditions like heat and humidity.  It kept my skin oil free, but it gave me the dewiness of regular skin that I like.
I got this spray as a part of the
beautyFix
kit I ordered. I am using this since a couple of months now and I really am thankful… truly…  as per the instructions I need to spray it 2-4 times after I'm done with my makeup. let it settle for a couple of minutes and you're set for a night-out 😀
This takes my face from powdery -matte to a nice dewy finish.  not an oily sheen but a nice glow. Also, it really works. I didn't  wear it for the entire night but the 5-6 hrs that I was out, my makeup stayed put and my face didn't look powdery or even slick oily. after 3-4 hrs I had to dab a bit on my nose but that's it…  But at the end of 5-6hrs my eye makeup creases a bit but then that's my overactive oily lids- the spray works great 😉
PROS
-oil free and paraben free
-sets makeup
-no weird fragrance or alcohol scent
-different types of sprays for different skin types and purposes
-prevents cakey, too powdery look
CONS
Contains alcohol – many are wary of products that contain alcohol because it dries out your skin
Available in 2oz $19.00,
4oz $29.00 and 8oz $39.00.
BEE rating:  4 out of 5
Do I recommend this? Definitely… in this unpredictable weather, a finishing spray helps a lot.
Keywords:  Skindinavia makeup finishing spray Review, skindinavia  makeup finishing spray, finishing spray,  how to make makeup last longer