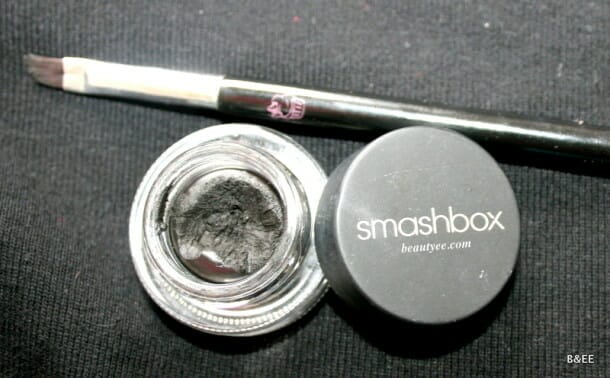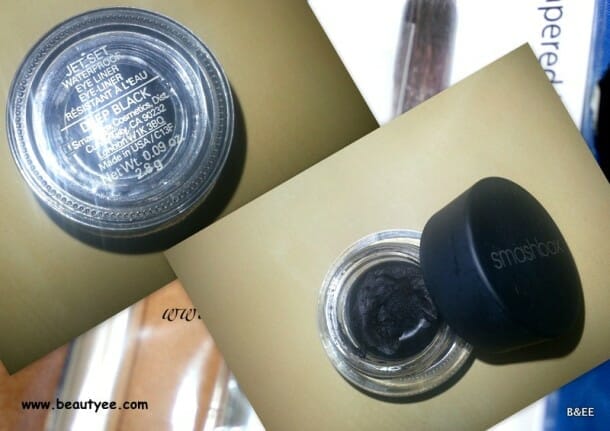 I had sworn off gel liners due to their waxy contents because I have serious hooded eyes & no matter how expensive or how well known a product I use, it still starts forming a ring around my eyes by the middle of the day. So far only liquid liners have been really trustworthy for me. But should that stop me from buying a gel liner? The blogger in me hides in a corner before answering that! LOL
Smashbox says : Smashbox Jet Set Waterproof Eye Liner is an innovative gel-based eye liner formulation that glides on easily and is waterproof and crease-resistant, giving you the power to create stay-put eyes like never before. Available in 3 high-intensity shades, these jewel-toned treasures deliver sexy, modern looks that beauty fans are sure to lust after.    Available in 6 shades
Cost : $22
My take on Deep black :  It definitely is true to it's name "deep black". I got it because I forgot my eyeliner on my NY trip in september.  The 1st thing I noticed that it was so soft and easy to use. Was gel-like but super creamy. It stays creamy for a few seconds so that once can smudge/blend it before drying. It does stay put.  I had a thin brush which I used to just quickly dip & line without any fanfare. [when I'm travelling I just need the bare minimum] I wont stay it's the best but it stays well with light smudging & mainly, does not travel all around my face. Specially on the waterline, it kinda fades but doesn't vanish. Also, it gives me a better wing than most of the gel liners I've used- hhahaha. But the downside is – it kinda gets a bit crumbly when dried.
I noticed that the pot has a rubber lining inside the cap so it won't dry as easily but it's best if you don't keep it open for long. The swatch I applied on my hand would'nt go with normal handwash even after rubbing so I guessed it's staying power 🙂
I'd definitely try it in a few more shades!