Happy monday girls… yeah, today even I'm feeling the blooos.  also since the hubby was not well the entire week everything was pending.. including my blog  🙁
I didnt really know anything about St.Paddy's day except that its some Irish tradition and they drink green beer and wear green clothes and stuff- something to do with Spring I guess. Which gives us another reason to dress up and frolic around- heheheh
Last year I had done some  random stuff [HERE] so this year I decided to dress up the eyes properly. Its a different story that we ended up dozing on the couch.. hehehe
So, let's get started:
1) Prep n prime with moisturizers and primers.
2) I took a green eye pencil [Wet n wild idol eyes Envy – review coming up next] and applied it all over the lids – basically apply a green base.

3)  Then I took a blue shade [kind of freshwater blue] from my 120 palette and  applied it over the green in a pat-pat motion.

4) Then I took an orange shade- more like a burnt orange and applied it in the crease. And then I kinda blended it with the blue-green- like so:

5)  I took a pearly white shade and applied it under the brows and in the inner corners of the eyes.
6) I then took a shimmering green eyeshadow and mixed it with the Inglot duraline to create a simmering green eyeliner. I actually wanted a shimmering green liquid liner/pigment. but anywho…. I used what I have [dear temptation- please don't let me have shimmering liners now… grrrr]
7) So this is how it finally looks like!!!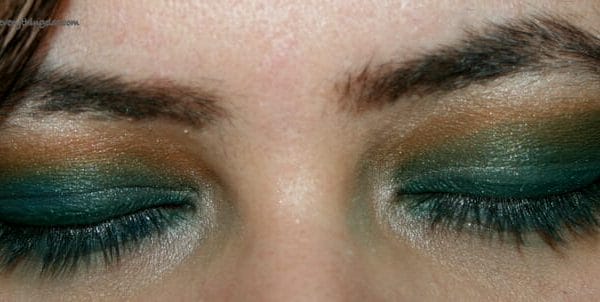 8) And these are the things I used to achieve this 🙂


I completely forgot to add Mascara here but it would really look great if you apply a dramatic volumizing Mascara. Also now that I see, tightlining with black might  make it bolder 🙂
P.S after a lot of research and deciding places to visit & calling frnds etc…. we ended up not going because My back is severely sunburned after my reckless trolling in the sea… The sunscreen failed me badly… hehhheee
And now I'm searching for things to ease out the pain.  
Have a great day my twinkies!!!!