Presenting you the most abused trend of this year : stripes! But in my defense I only have one shirt. And this is how I always look when I go out and about.  just concealer, my fav MUFE duo-mat powder, a Kohl and something on the lips.  Do let me know what's your go-to routine :
And this one in animal spots :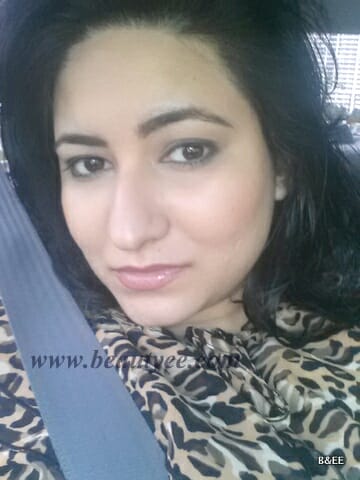 I saw Karen from "Will and Grace" wear the same Striped shirt today. she also wears a lot of animal print. And the show was in early nineties or something. So see, they recycle trends! GO rummage through your grandma's clothes now!
Something on my mind lately :
– I hope fall comes soon. I miss fall! & Christmas. I am so in love with the whole december that it makes people doubt if I'm really a hindu!
I never show that enthusiasm while going to a temple.
– Ask any woman, apartment hunting & the drama that goes to it makes your blood pressure rise than anything else.
– These days, I'm reading articles on CNN and feeling, is this world doomed already?
– Here in Miami, I find guys wearing more makeup than I do.
– I swear to God I bought a big box of laundry detergent & somehow I'm not able to find it. did the pigeons from the balcony take them?
– Everything seems boring these days. I'm having a ton of crap to do, I want to nap too but I'm doing neither.
– I always wonder, how come the entire world's ppl have their coffee tables clean & tidy and mine always has mess around. even after I clean it, 1hr later there's crap on it.
– I saw something today  & it disturbed me a lot. So I'm counting my blessings & considering myself lucky.
– I'm having so many ideas for my blog but for some reason I'm not able to do anything. I donno why.
– I now fully understand why sleeping early and sleeping fit is relevant to the inner & outer health.
– Folgers coffee is messing with me. I bought it because I wasn't able to find nescafe but this sh*t is strong!
– There's a shirt in Zara I really have my heart on but for some reason, I'm resisting buying it because of the damage I did on my birthday.
And also, some damage I'm going to do in september (will tell you abt it ;))
– I noticed that anxiety can happen to anyone.