Hey everyone! Rejoice coz it's friday!!!  We are apartment hunting so the whole week has been really hectic and the trend is supposedly going to continue through the weekend.
I am planning to do a couple of grunge makeup looks which are in my mind. Should I do them???
Meanwhile, I've been tagged to do my fav 5 lipsticks by the super gorgeous Deeptima and the wildchild Bharti  so here they are!!!!
1) MAC RiRiWoo : I never wore red and now I can't stop wearing this baby. hat's off to you MAC. I even sent it's sister RubyWoo for mom.  plz MAC, make this permanent (reviewed HERE)
2) MAC Brave : this is my 2nd tube & God knows why I didn't review it as yet.  soon soonest! It's my perfect MLBB. I will repurchase this all my life!
3) Maybelline's a plum prospect : this is a cross between a lipstick and a lipgloss and it accompanied me on beach dates, grocery shoppings, mall visits, and everytime I thought "lets go someplace" ALL through summer!!!  LOVE!
4) Rimmel Kate Moss #105 :  my go-to mauve rose.  Rimmel says it's Mid-tone neutral bronze. but I've been keeping it my purse a lot at the moment.
5) Colorbar's Vintage Rose : This one's like Fuschia poured in a glass. I've got so many compliments every time I wear this… I should've bought a couple of backups! (reviewed HERE)
Swatches :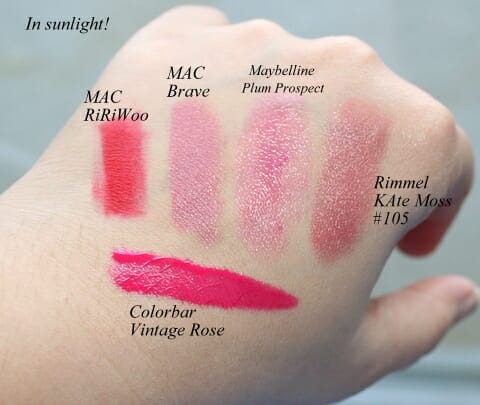 Hope you liked my stash. I want to cheat and add 1 more here but maybe next time 😉
I need to tag 5 more beauties to keep this going So I tag all my South Florida bloggers.… they all are so fabulous!!!
HAve a great evening ladies!!!
Love,
Bee