For a long long time I stayed away from anything remotely resembling a highlighter or a shimmer bronzer. You see, For a long long time, I was absolutely terrified of putting anything with shimmer/glitter because of my crater like open pores. Also I have super oily skin which n itself becomes all shiny after a few hours. The I started blogging & experimenting & fixing things. I had my eye on MAC's Soft n gentle and this baby.
The BALM says: Meet Mary-Lou Manizer, a seemingly innocent honey-hued luminizer that catches everybody's eye. This highlighter, shadow and shimmer diffuses light so your skin looks softer and younger while adding a subtle glow.
Cost : $24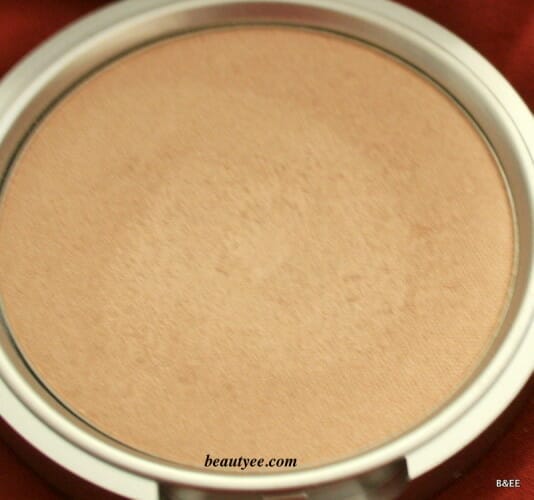 My take on the Mary Lou-manizer : I was hooked looking at the packaging itself. it looks like something Carrie Bradshaw would have in her purse. So chic 🙂 It is a gold/ champagne colored really soft powder.The texture of this is extremely buttery smooth. Not to mention the pigmentation. Its really finely milled so the brush picks up a lot. I'd suggest if you're heavy handed (like me) then stipple the brush at the back of your hand & then apply on your face.  I absolutely love how it looks on me & I've used it before a ton of times in pictures, where my friends (& a few readers) have really complimented on my "glow" – it really makes you look fabulous in pics!!! Specially on the inner corners of the eyes, Bridge of the nose, high points of cheeks, under the brows And if you wear hose corset type dresses – on the Décolletage.One can also use it over a matte bronzer & skip the blush.  It lasts a long time on me & doesn't look overly shimmery if I use it light. I mostly use a fan brush with it so I don't go to town with it 😉
Also, I use it as an eyeshadow. I just apply it as a light was on my lids – looks great! I have a feeling this will look fabulous on tanned skin 🙂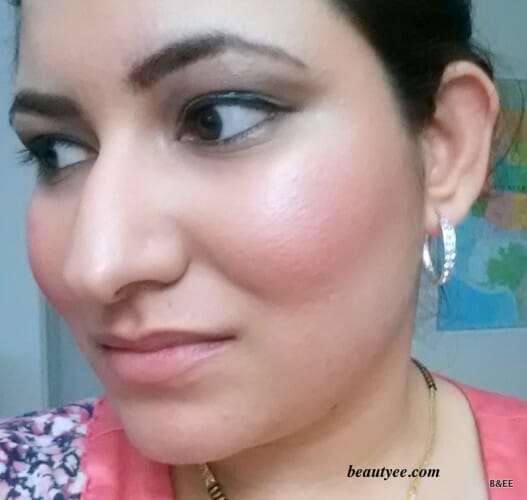 CONS :
– One can easily go overboard with it & look like a shiny disco ball.

– So many girls have complained that it crumbles & breaks even on slight impact! Not a good news for an accident prone clumsy-a$$ person like me

– When am I ever going to finish so much of product.

– I'm not sure how it will look on pink undertones.
Verdict : Overall, its a good purchase. No wonder it's such a hit on the blogosphere.