The last time I saw an awards function I was wondering how come no one thought of statement hair accessories and while browsing today I came across this:
While her predecessor from the eighties was soft and floppy, the hair cuff of today is streamlined and sophisticated, says Emmy Award-Winning Stylist, David Zyla. He notes that the same adage holds true: "Size does matter! Keep your cuff in proportion to the length of your hair. If your hair is shorter than your shoulders, keep your cuff no wider than 1?. Longer hair can handle more width."
For a sleek subtle look, match a hair cuff to your hair. The texture difference between your hair and cuff creates an ultra-chic statement, Zyla says.

Accessorize!
Gad Cohen, a New York based celebrity stylist says: "Accessories, such as hair cuffs, should enhance, not detract from your aspirational look. Hair cuffs can really dress up a casual outfit — try one in an animal print or metallic that compliments your or shoes or handbag.  Use the hair-cuff in place of additional jewelry. The hair should look not too coiffed – it should be a little "un-done" – not too decorated. Your going for whimsical, young and refreshing, like Blake Lively from Gossip Girl  an avoid looking too costume-y (something out of a Cecil B. DeMille period movie)."

How to wear it
"Attach the cuff to the hair in a half-up, half-down hair or ponytail, or as part of a chignon (up-do). You can also use it to pull hair away from our face on just one side, " Cohen suggests.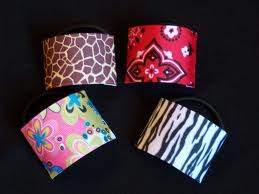 They Look great right??? and with the messy ponies and updos making a huge uproar -these are the next big things 🙂
I found more cute ones HERE.
P.S : Images and content – Google uncle 🙂