Happy new week gals…. when the weather plays havoc and one feels a bit headachy sick…. one starts painting their face (if one is delusional like me…. ting!)
So presenting steps to apply a winged liner using a gel eyeliner. I've used a thing brush here so any kind of liner can be used : gels, liquids, pencils, cakes etc
1) Starting from the middle and in short strokes, apply the liner all across the lid. like so-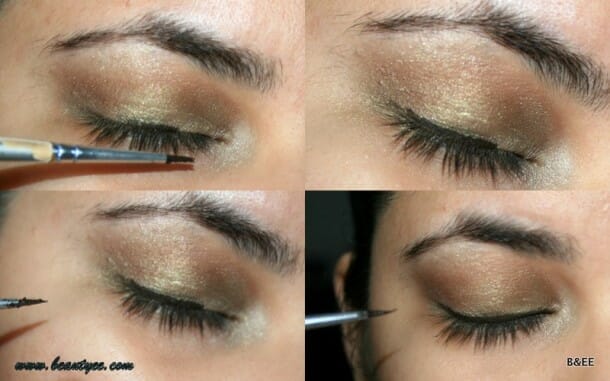 2) Taking the brush, apply a line extending from the end of your lower lash line. Try and join the dots gaps left. Draw the wing edge as high as you want. Or as tiny
3) From the highest point, join the edge taking it down to the lid. Once you form the wing, smoothen whatever edges look rough and jagged.  If you are not happy with your wing, Cheat and shape it using a Q-tip doused in makeup remover. 
4) OPTIONAL : Apply a kajal/liner on the lower lashline & waterline. you can bring it lower on the inner corner to make it look ARABIC 🙂
This is the final look 🙂
Hope you guys like it!!!   Let me know what do you think about this in the comments below.
à bientôt!!!!
Bee