1) Applied ELF eyeshadow primer
2) Applied Maybelline Tattoo Eyeshadow Pomegranate Punk (Reviewed HERE)
3) Applied a wash of MAC All That Glitters Eyeshadow on the entire lid.(Reviewed HERE)

4) Applied MAC Coquette Eyeshadow  (HERE)

5) Fill in your brows – I used my Ardell Brow Defining Palette.
6) I applied a matte highlighting shade under the highest point of my brows and the inner corners of my eyes.
7) I applied eyeliner and Mascara.

8) I applied MAC studio fix concealer under my eyes.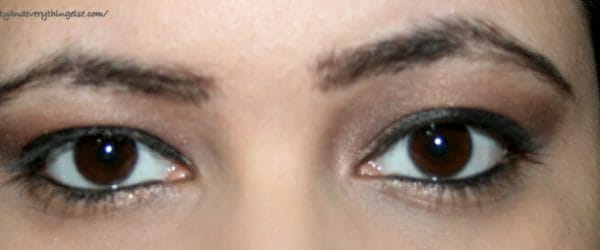 9) I applied a peachy-bronzy blush on my cheeks & a light gloss on the lips and I was done.

I didn't like this one so much but none of the pics focussed :(( the lights were horrible as the weather was creating a havoc… please don't bash me for the poor pics.. 🙂
And this is the outfit I wore… we went to HardRock casino  and had a great time.. Watched a great band play, had grt food and danced a bit 🙂
btw- does this qualify as Color-blocking????