Hey gals… hope you are having a great weekend. after 3 weeks of the deadly FLU, I'm quite chipper this weekend and really looking forward to being out. The weather is going crazy here in SFL being hot one day and all cloudy the next, you never know.  BTW, did you watch all those Oscar nominated movies? I want to binge watch them so bad… especially the wolf, frozen,12 years and the American hustle. which one do you reco I do first?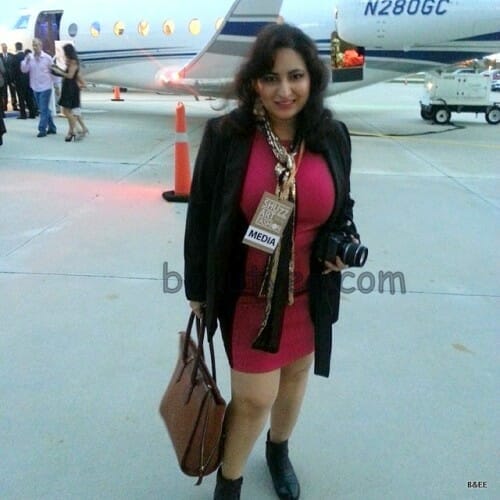 I had an opportunity to cover an event for a big Charity showcasing a fashion show by Zac Posen (you can read all about it HERE) so I decided to whip up my best makeup and go to town with it. Although my face was swollen as hell and my eyes were red because of the meds...nonetheless, Enjoy the look :
Makeup : I applied the L'oreal youthcode primer all over and then applied NARS sheer matte foundation. I have fallen in love with it now and it blends beautifully on me. Also, I love that it's not extremely matte.  For the eyes I finally tested my Urban Decay NAKED 3 palette. it is absolute bliss to work with. I'm not even kidding- love hubs for it!  I lined my eyes like usual with my black liquid eyeliner but did not wing it. I used the new Clinique blush in Ginger pop and it is just bliss. I might get more from them. so soft and one cannot go wrong with them. I decided to go full glam and applied MAC's soft n gentle on the upper cheeks (psssttt… 2 girls asked me what highlighter was that so I'm guessing it's a win ;)). The lipstick was last minute as I put the one which was already in the bag. It was Covergirl spellbound I suppose. Skipped mascara due to the redness but that was it 😀
Outfit : I wore a lovely pink & black shift dress which was kind of formal but I jazzed it up with a sequined neck piece and a blazer. Note to self : get more shimmering outfits. I kept the jewellery to a minimum and just added some ankle boots.
My face has lost the swelling now so do expect some more EOTDs with the Naked 3. Also, I badly need to do something about my hair. So, what's your go-to face for special occasions? let me know in the comments below!
Bee
Want to keep updated? Follow VIA; Bloglovin'