[Pic heavy post]
Wet n wild is one drugstore brand which is awesome in quality and insanely affordable, specially their eyeshadow palettes. I'm eyeing their 8 shadow palettes so desperately but it's always sold out here and online they charge attrocious shipping…. like, its seriously so annoying (read that in the Kardashian tone ;))
Wet n Wild MegaShield Lip Color SPF 15 are a new lip product this spring.
These super moisturizing and slick lip colors come in fourteen shades and contain vitamin E, amino acids, avocado oil and rice bran oil, as well as an SPF of 15.
There are fourteen (14) shades in the line-up: #360S Birthday Suit, #361S Peachy Keen, #362S Make Me Blush, #363S Arrest Me Copper, #364S Bare-ly Legal, #365S Ring Around The Rosy, #366S Pink Slip, #367S A Currant Affair, #368S That's Berry Beautiful, #369S Salsa Lessons, #370S Lolly Popstar, #371S It's A Girl, #372S Within These Adobe Walls and #373S Pink Cham-pagne.
Availability:
Available at mass market retailers nationwide beginning February 2012.
Suggested Retail Price: $2.99 + taxes.
Shades:
Birthday Suit – pale champagne shade w/ golden undertones, frost finish
Lolly Popstar – magenta pink w/ golden shimmer, frost finish
That's Berry Beautiful – pale dirty red w/ golden shimmer undertones, frost finish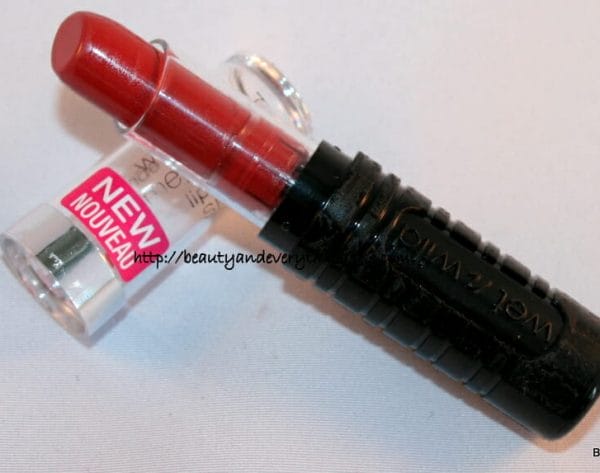 My Experience with the WnW lipsticks: First things first- these are soooooo pigmented.. I mean these are actually what we call "one-stroke-color".  Also they are so moisturizing and light weight.   pretty good color payoff and all are opaque.It is as good as some high end lipsticks and I was pleasantly surprised. the lasting power is about 3-4hours and after that it fades to a stain 🙂 the lighter shades vanish though. Several of the shades have a frosty finish to them, and frost just isn't my thing. specially the pink looks like "Chameli"
The one thing I did not like is that the frost makes the lippie look cakey sometimes. kinda flaky. Also the lipsticks come wrapped in those annoying drug information. it was such a task to remove those umpteen stickers and it also left the lipsticks sticky.  I like the actual packaging of the lipsticks though. but for some reason I guess these days almost all the drugstore lipsticks have similar packaging- revlon colorstay, maybelline 16hr ones and now these.
Yayys:
– superbly pigmented.
– Very light weight.
– Creamy and moisturizing.
– 14 shades available.
– No smell or taste.
–  They are great for about $3
Nays:
–  The lipstick doesn't go all the way down in the tube, so it might break sometimes.
–  SOme of them are so frosty you wouldnt want to wear them 🙁
– The protective shield with the content list is so difficult to remove, its just irritating.
Verdict: They are like ok… but then just that. quite comparable to any normal lipsticks available in the market..  but for the cost, I'd recommend to get at  least 2 🙂
More Images: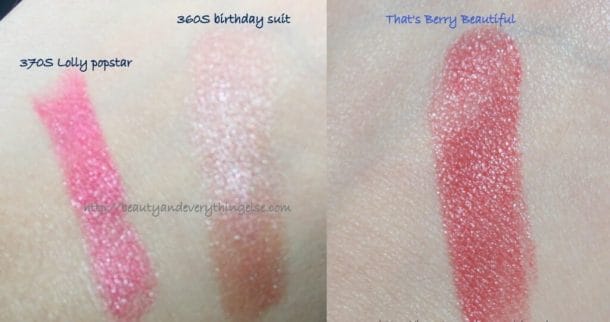 P.S: The product(s) in this post were provided to me by the manufacturer or their PR company for consideration. For more information please visit my Disclosure tab.