Hey girls… Happy friday!!!!   After I started this feature  last week, everyone really liked it… I really wanna take a looksy in all ur bags 😀
Every time I see some pretty lady I think, what might be in her bag??? and now with so many pretty ladies around me.. I thought lets snoop around a bit.. hehehe Till then, enjoy what Nidhi has to say:
Hii Bee!
 Well my Bag contains
1) Nivea lip balm – use it on my lips my eyebrows n also on my eyelids.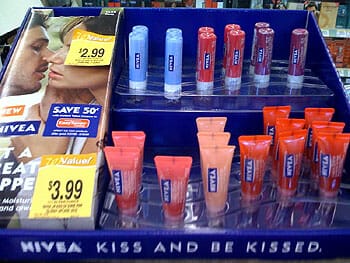 2) Loreal wet wipes (sometime when I have to lessen the things that I carry, I keep my baby's hand an mouth wipes n use that for me too) to cleanse the face ..but I don't do it freuqently.. overcleaning with wipes doesn't suit my skin.
3) Vov Nude shade gloss..top it on the lip balm n sometime on eye lids too.
bass…thats it!
Thanks a ton Nidhi 
  Hope you all like this feature. I invite all you people to share with us what's in your bag 
 we sure love to sneak 
[P.S – Images from Google uncle. ]
Also Read: